Brisbane Male Escorts, Australia's first and only "no sex" male escort agency caused quite a media frenzy with its press debut article in Brisbane City News the week prior to Valentines Day 2013.
The newspaper article the catalyst for a pre 6am wake up call from 4BC radio producer for owner and founder Anthony Clark with an invitation to speak with Peter Dick and Mary Collier that morning at 7.40am live on their Breakfast Radio Show.
Shortly after the 4BC interview Anthony received phone calls from Australia's Nine and Seven TV Networks requesting live interviews for the Today and Sunrise Breakfast shows. Interviews can be seen below.
Brisbane Radio

Brisbane Male Escorts' founder and owner Anthony Clark spent some time chatting live on air with Peter Dick and Mary Collier on 4BC's Breakfast Show at 7:40am Wednesday 6th February 2013.
Both Peter and Mary were very positive about Brisbane Male Escorts' no sex business model, and both stated that they could see a growing demand for its' services in Brisbane.
Peter on several occasions jokingly asked to be signed up as Brisbane Male Escorts newest recruit, to be told by Anthony that there were several stages to the recruitment process. The first stage, submitting a photograph and a resume, to which Peter replied that he would submit a photo of him from back in 1975.
Peter and Mary began speaking of the shortage of eligible males available in Brisbane, with Mary extenuating the virtues of hiring a professional male Chaperone for dinners, events and functions, work or otherwise. Outlining the potential awkwardness and often misconstrued intentions of inviting a male colleague or acquaintance to such occasions.
Australian National Breakfast TV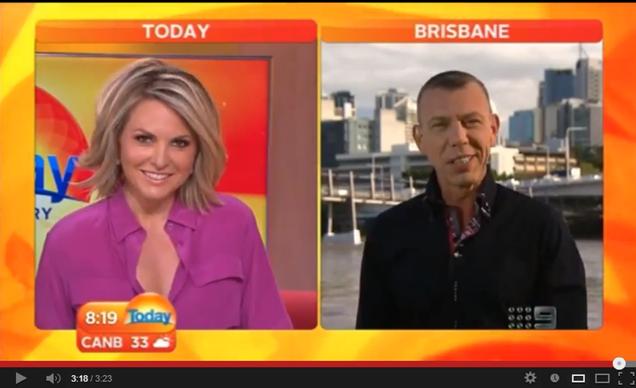 Click above image to play interview 7th February 2013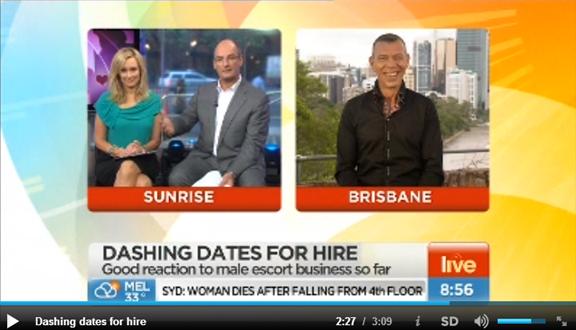 Click above image to play interview 7th February 2013